Our Next Production - Cole Porter's ANYTHING GOES
The great 1934 Broadway Musical!!!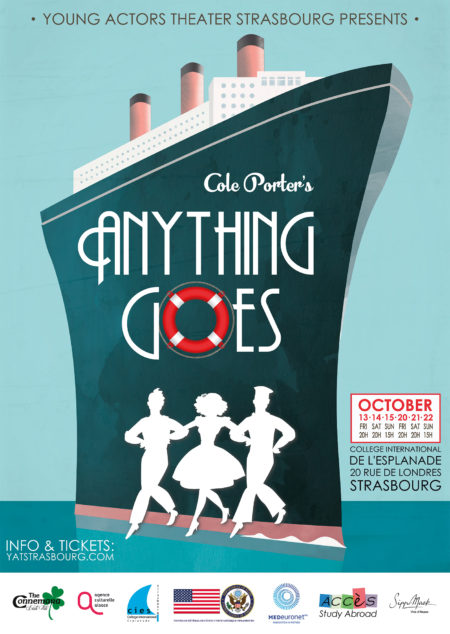 ANYTHING GOES  is our next musical! This great Cole Porter musical from the 1930's comes to Young Actors Theater with 6 performances in October 2017. Packed with timeless classics like "I Get a Kick Out of You" and "It's De-lovely" and show-stoppers like "Anything Goes" and "Blow, Gabriel Blow," Anything Goes gives YATS' young actors lots of opportunities to show-off their talent and to have the audience tapping their toes.
Our next rehearsal of Anything Goes is Friday 1 September 2017. See you in September and the YATS Team wishes everyone a good summer holiday!
Come and see our young actors in Action!
This year YATS has three year-long theater workshops and their final showcase presentations are this week and next. There is no need to RSVP and the showcases are free.
Monday 19 June at 19h - Advance Theater Workshop - scenes from classic and contemporary American theater.
Thursday 22 June at 19h - Collège/Lycée Showcase - scenes and monologues by modern American playwrights.
Thursday 29 June at 19h - Ages 9 to 11 Showcase - DREAM BIG - scenes from Where the Wild Things Are, Red Balloon and Living Room Scenes.
All showcases are at Collège International de l'Esplanade.
Upcoming Events
There are no upcoming events at this time.
Young Actors Theater Strasbourg (YATS) is grateful for support from many sources including our founding sponsors, businesses, partners and families, who make it possible to continue our theater programs for the young actors of the Strasbourg community.
We want to particularly recognize two who have provided generously over the past couple of years.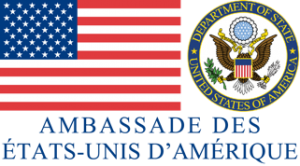 The Consul General of the United States of America began by supporting our production of Seussical Jr. in 2014 and continued with last year's hit production of Disney's Beauty and the Beast Jr. And we are fortunate to have them back on board this year for Fame Jr. We salute the strong support of the Consul General!

YATS's partnership with Collège International de l'Esplanade began in 2015. Esplanade is truly our home. All our rehearsals, performances, theater workshops and events take place at the Collège de l'Esplanade. They are an amazing partner whose support is indispensible to the success of YATS. Thank you for sharing your home with us!
Subscribe to our Mailing List